New in August 2017 By Mr Raghu Das IDTechEx Research
The following extract of a press release by IdtechEx relates just to RFID tags, core business of tatwah SA:
…. This comprehensive report from IDTechEx gives the complete picture covering passive RFID, battery assisted passive, active RFID, Real Time Locating Systems (RTLS) and chipless RFID.
IDTechEx find that in 2017, the total RFID market will be worth $11.2 billion, up from $10.52 billion in 2016 and $9.95 billion in 2015. This includes tags, readers and software/services for RFID labels, cards, fobs and all other form factors, for both passive and active RFID. IDTechEx forecast that to rise to $14.9 billion in 2022.
In retail, RFID continues to be adopted for apparel tagging above all other applications by volume – that application alone will demand 8.7 billion RFID labels in 2017 – which still has some way to go with RFID penetrating less than 20% of the total addressable market for apparel in 2017.
RFID in the form of tickets used for transit will demand 825 million tags in 2017.
The tagging of animals (such as pigs, sheep and pets) is substantial as it continues to be a legal requirement in many more territories, with 480 million tags being used for this sector in 2017.
In total, IDTechEx expects that 18.2 billion tags will be sold in 2017 versus 15.2 billion in 2016 (~ 20%). Most of that growth is from passive UHF RFID (RAIN RFID) labels. However, in 2017 UHF (RAIN RFID) tag sales by value will only be 25% of the value of HF tag sales, mainly because HF tags where used for security (such as payments, access etc) have a higher price point versus the cheaper, usually disposable UHF (RAIN) tags used for tagging things.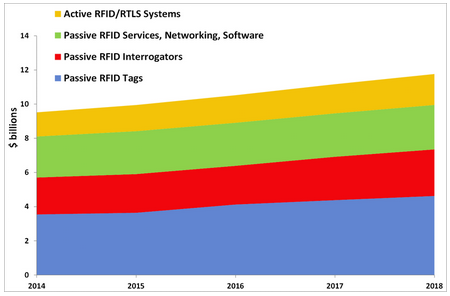 Total RFID Market in US$ billions
source: IdtechEx
Citation of the month:
Oct 16, 2017 …..the only reason I can come up with is that journalists and the businesspeople they write for view RFID as a mundane cost-cutting tool. …….
The point is that RFID is not just about cutting costs—it can help grow topline revenue as well. And in business, that's sexy.
Mark Roberti is the founder and editor of RFID Journal.
tatwah SA thinks so too for as long as RFID goes beyond logistics aspects to include customer