Bluetooth® BC001 SMART CARD BEACON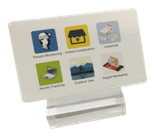 Description – Application
The Bluetooth® BC001 SMART CARD BEACON is compatible with Bluetooth® 5.0 standard and it is designed to full fill all requirements for people flow management, advanced IoT applications like extended access control including micro-payments, event management, employee badges and patient monitoring in hospitals.
Thanks to its ultra-low power consumption, the beacon guaranties un-surpassed battery lifetimes. Its high precision accelerometer sensor permits to detect any movements, vibrations, shocks or a specific fall. The accelerometer parameters are configurable in order to adjust them to the final needs of the application.
All beacon configuration parameters can be updated over-the-air through a specific profile service. A secure operational mode is also available and based on an AES-128 crypto algorithm.
Options
The Bluetooth® BC001 SMART CARD BEACON can be proposed with:
a NFC function to provide extra functionalities as registration, access control or micro-payments
Temperature sensor
The Bluetooth® BC001 SMART CARD BEACON can be printed using silkscreen or offset technologies.
Characteristics
Technology

Eddystone (UID, TLM, URL), iBeacon and AltBeacon protocols supported

Accelerometer and optional Temperature sensors

Optional additional NFC Forum Tag Type 2 or 5

Switch

2 LEDs

Standards

Bluetooth® Low Energy V 5.0

ISO/IEC15693 (NFC Forum Tag Type 5)

ISO/IEC14443 (NFC Forum Tag Type 2)

Battery Lifetime
Up to 3 years depending on the Bluetooth® beacon parameters
Reading Range

More than 75 meters for Bluetooth® Low Energy

LOS of 200 meters

Up to 10 cm for the NFC interface (option)

Accelerometer Sensor
User-selectable full scales of ±2g / ±4g / ±8g / ±16g and is capable of measuring accelerations with output data rates from 1.6 Hz to 1600 Hz
Dimensions
Length : 85.6 mm – Width : 54 mm – Thickness : 3.2 mm
Material
ABS housing & PVC top and bottom sheets
Thermal Properties
– 30 to + 60 °C / – 22 to + 140°F
Chemical Properties
IP65
Certificates
RoHS & REACH conform. Conflict free sourcing www.conflictfreesourcing.org
FACTSHEET request
Thank you for taking time to fill out this form :
(fields with * are mandatory)